We all have our days when our spirits need a little lifting, and the right song can do just that! Whether it's hip-hop, pop or my personal favorite, good 'ol R&B, I've learned music has the power to make your troubles melt like lemon drops. I' have struggled with self-esteem since I was a young Black girl trying to find herself; thankfully, the perfect song came along every few years that allowed me to celebrate my Black girl/womanhood — unapologetically.
So, here's a list of Black girl anthems I love to bump whenever I'm feeling down on my luck or just feel like celebrating the day.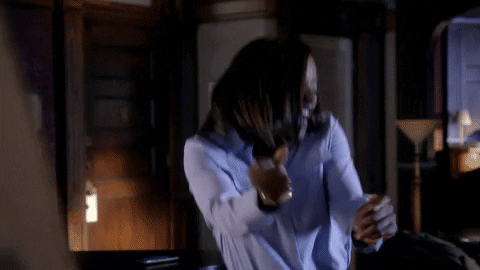 ---
"I'm Every Woman" x Chaka Khan
I'm every woman, it's all in me / Anything you want done baby, I'll do it naturally.
I can cast a spell / With secrets you can't tell / Mix a special brew / Put fire inside of you.
"Put Your Records On" x Corinne Bailey Rae
Blue as the sky, sun burn and lonely / Sippin' tea in a bar by the road side.
Don't you let those other boys fool you / Gotta love that afro hairdo.
"Video" x India. Arie
I'm not the average girl from your video / And I ain't built like a supermodel.
But I've learned to love myself unconditionally / Because I am a queen.
"Grown Woman" x Beyoncé
I can be bad if I want / I can say what I want
I can live fast if I want / I can go slow all night long.
"Nice for What" x Drake
That's a real one in your reflection / Without a follow, without a mention.
You really pipin' up on these n*ggas / You gotta be nice for what to these n*ggas?
"Independent Women, Pt. 1" x Destiny's Child
Tell me how you feel about this / Do what I want, live how I wanna live.
I worked hard and sacrificed to get what I get / Ladies, it ain't easy being independent.
"What's Love Got to Do with It" x Tina Turner
I've been taking on a new direction / And I have to say
I've been thinking about my own protection / It scares me to feel this way
"F.U.B.U" x Solange
All my n*ggas in the whole world know / Play this song and sing it on your terms
For us, this shit is for us / Don't try to come for us
"Run the World" x Beyoncé
My persuasion can build a nation
Endless power, with our love we can devour
"Whip My Hair" x Willow Smith
Don't let haters get me off my grind / Whip my hair, if I know I'll be fine
Keep fighting until I get there / When I'm down and I feel like giving up (I think again)
"Respect" x Aretha Franklin
Ooo, your kisses / Sweeter than honey
And guess what? / So is my money
t Your Records On" x Corinne Bailey Rae
"Grown Woman" x Beyonce
"Video" x India. Arie
"Respect" x Aretha Franklin
"Girl" x The Internet
"Run the World  (Girls)" x Beyonce
"Independent Women, Pt.1" x Destiny's Child
"Nice for What" x Drake